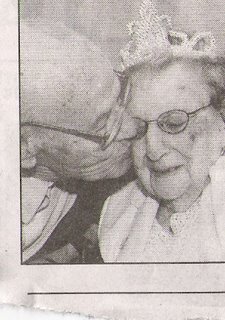 OLGA ''THE OLD GAL'' REUNITED WITH GUSTOFF ZHYCHICK AFTER 29 YEARS APART
............
OLGA THE SEAMSTRESS ALSO KNOWN AS THE ''OLD GAL'' ARRIVED A JFK AIRPORT TODAY AND WAS REUNITED WITH HER OLD FRIEND GUSTOFF ZHYCHICK .
OLGA CAME TO N.Y . TO ROOT ON DON ''MOSES''LERMAN TOMORRO AT THE GOLDEN PALACE .NET ICE CREAM CONTEST .
SHE'L BE IN NY FOR 2 DAYS AND RETURN TO LOWER ALBANIA ON SUNDAY
.