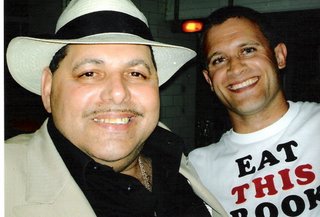 Ryan Nerz launchs book with large party
Yesterday ay Double Happiness in the Lower East Side a large party was given in honor of Ryan Nerz for his new book 'Eat This Book''
Among the eaters that attened was Don Lerman
Charles Hardy ,ERIC Booker, Tim Janus and Crazy Legs Conti
pictured at left: Don Lerman and Ryan Nerz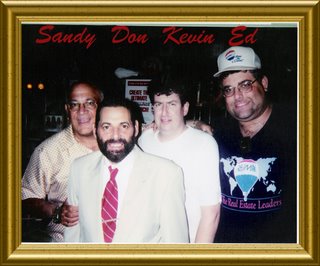 Thoughts on the pickle contest
This question was accidently edited
so far the opinion of the readers is A.I.C.E should not be invited to the contest , what are your thoughts .
pictured left: Sandy Levine. Don Lerman . Kevin Lipsitz.and Ed Jarvis i n famous picture that hangs in the Carnegi Deli.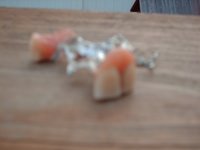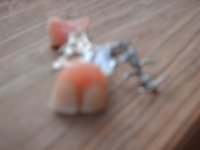 The long awaited pictures of Don ''Moses'' Lerman's partial Denture
Here is my denture; that won me the jalepeno peppers, the cloud burger contest, the butter in the glutton bowl, The Matzoh Ball Contest, Winchells Donuts, 2 Wing Bowl Top 3's, and 14 Nathans Regionals. I start the bidding at $300. There is an undisclosed reserve, this will be sealed bid auction, but feel free to post bids on the blog.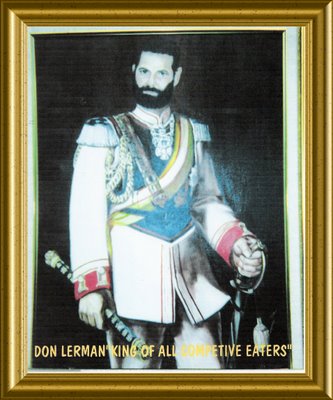 HELLO FANS THIS IS DON LERMAN SPEAKING, I THOUGHT EVERYONE WOULD LIKE TO SEE THE PAINTING I HAD COMMISHIONED OF ME AS THE KING OF PRUSSIA, WELL HERE IT IS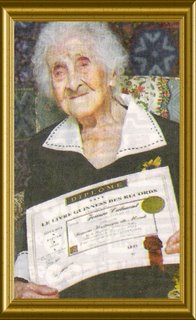 AT LEFT. IS A PICTURE OF OLGA ''THE SEAMSTRESS'' AFTER WINNING THE KAPUSTA CONTEST IN LOWER ALBANIA .HUNDREDS OF E-MAILS WERE SENT URGING HER NOT TO COME TO THE USA TO COMPETE
.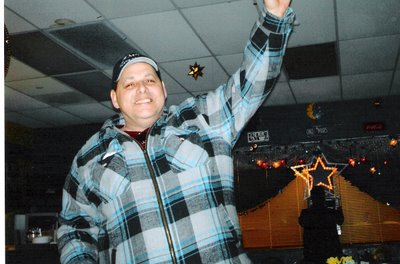 HELLO FANS THIS IS DON LERMAN SPEAKING THANKS ONCE AGAIN FOR YOUR SUPPORT . FROM NOW ON I WILL ADDRESS MY DISTRACTORS AND CRITICS ON MY BLOG AND MY BLOG ONLY.UNTILL THEN THANK YOU AND BE WELL..DON LERMAN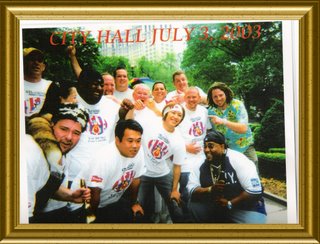 Here is a group photo of the Nathans City Hall weigh in 2003. the first Nathans reginal will be this month in Florida .I'll be reporting all the I.F.O.C.E contests ,however theres a womens kapusta and borst contest in lower albania that I'll be skipping ,why? Who cares ,thats why
NEXT EDITION I will be unvailing the picture of my partial ....so stand bye untill then...Don Lerman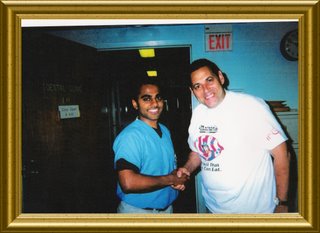 THIS IS DON ''MOSES'' LERMANHERE IS A PICTURE OF MY DENTIST AND I, IN WHICH I GOT THE THUMBS UP ON MY TEETH. ITS A GO ITS A O.K. THE TEETH ARE GOOD . IF THE POLYGRIP HOLDS YOU'LL HAVE A GOOD DAY . IN A FEW DAYS I WILL AUCTION OFF MY OLD PARCIAL...DON LERMAN