Our News is Written in Stone™
Monday, July 31, 2006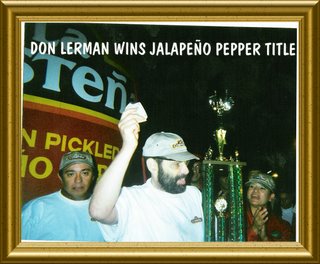 LERMAN'S FLIGHT BOOKED , READY TO GO
.
DON LERMAN WHO HOLDS NOT ONE BUT 2 JALAPENO PEPPER TITLES ONE FROM
LAREDO AND ONE FROM MILWALKEE WILL FLY TO N.M ON AUG. 25 TO CAPTURE THE SKY CITY CASINO TITLE .LERMAN SAYS I TAKE NO ONE FOR GRANTED, I'M DOING THIS CONTEST FOR MY FANS AND I 'LL
BE EATING JALAPENO PEPPERS FROM NOW TILL AUG. 26TH IN PREPERATION FOR THE CONTEST . LERMAN SAYS NO ONE WILL BEAT ME , ITS DO OR DIE FOR ME ,LERMAN SAYS HE CAN'T WAIT HIS BAGS ARE ALREADY PACKED .
Archives
March 2006 April 2006 May 2006 June 2006 July 2006 August 2006 September 2006 October 2006 November 2006 December 2006 January 2007 February 2007 March 2007 April 2007 May 2007 June 2007 July 2007 August 2007 September 2007 October 2007 November 2007 December 2007 January 2008 February 2008 March 2008 April 2008 May 2008 June 2008 July 2008 August 2008 September 2008 October 2008 November 2008 December 2008 January 2009 February 2009 March 2009 April 2009 May 2009 June 2009 July 2009 August 2009 September 2009 October 2009 November 2009 December 2009 January 2010 February 2010