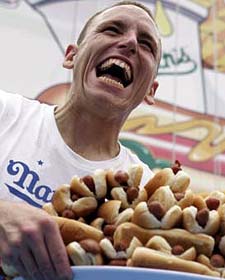 MSN Feature Story Of The Day
*
click here for great tee shirts

http://www.tshirttank.com

Jaws to the rescue
Joey Chestnut's mouth vaccuumed up 66 hot dogs in 12 minutes. (Seth Wenig / Associated Press)
Takeru Kobayashi dominated competitive eating for years. He won the Nathan's hot dog competition at Coney Island six years in a row. But this July 4 was different.
American Joey "Jaws" Chestnut devoured 66 hot dogs in 12 minutes to beat Kobayashi and set a world record. The former champ was game, consuming 63½ hot dogs (minus a late regurgitation) despite suffering from an arthritic jaw and a recent wisdom tooth extraction.
But Chestnut, 24, was a force of nature. "This title's been held by Kobayashi for six years, so it's about time it came home," Chestnut said after the event. "I knew going into this contest that Kobayashi was going to give 100 percent."