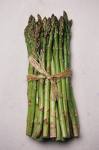 Aspara-guzzling
Gurgitators preparing for contest

PubDate = 'April 24, 2008'
By Jo Ann Kirby
Record Staff Writer";
Some of the nation's leading "gurgitators," as contestants are called in the high-calorie world of competitive eating, have spent the past week stretching their stomachs and suppressing the urge to gag in anticipation of the Stockton Asparagus Festival.
Their goal is to win the fifth World Deep-Fried Asparagus-Eating Championship, set for noon Saturday at Weber Point Events Center. Their training techniques range from the simple to the simply gross.
Such training is not something just any rookie should try at home. Most of these speed eaters are pros and operate under rules established by the International Federation of Competitive Eating designed to keep them safe.
"We have emergency medical on scene," Asparagus Festival executive director Kate Post said. "We have throw-up buckets. We've never had anyone puke. Not yet."
Last year's champion, Joey "Jaws" Chestnut of San Jose, has been busy working out his gut. Chestnut's training regimen involves starting his morning with a protein drink chased down with a gallon of water.
"Asparagus is one of the hardest foods to eat," he said of the fibrous stalk he's known to fold in half before shoving into his mouth. "There's only one way to train and that is to practice with the food you're going to eat in the contest."
Chestnut, who is ranked No. 1 in the competitive eating world, has spent the past several nights polishing off pounds of his own version of deep-fried asparagus using a recipe he found on the Internet. The 24-year-old college student - who won last year's contest by eating 8.6 pounds of asparagus in 10 minutes - planned to scarf down 9 pounds of the green stalk Wednesday night before swearing off all food until Saturday's feast.
"You have to go in with a reason to eat," he said of the fast.
For amateur Eric Louie, a former Record reporter, his strategy is straightforward.
"I'll just show up hungry," he said of his plans to best the nearly 2 pounds he swallowed in 2007 when he placed ninth. "Last year, I was actually still hungry afterwards."
Contact reporter Jo Ann Kirby at (209)546-8256 or jkirby@recordnet. com.
document.write(unescape(xtraFacts));
init_Img();

• STRETCH IT: Gurgitators get their jaws in shape for eating contests by chewing gum and stretch their stomach capacity by downing large quantities of fluids or scarfing down a huge meal once a week. "No all-you-can-eat buffet ever made a dime off of me," Chestnut said.
• DON'T GAG: Professional eaters get in shape for contests by practicing. Rivals Joey Chestnut, 24, and Pat Bertoletti, 22, are working out with huge batches of
deep-fried asparagus.
• WORK OUT: Some competitive eaters say exercise gets them in shape. Juris "Dr. Bigtime" Shibayama, an asparagus contestant and pro gurgitator, relies on a good cardio workout to help him increase both his appetite and metabolism while fending off a "band of fat."
Fun facts
• A study published last year in the American Journal of Roentgenology determined that "successful speed eaters expand the stomach to form an enormous flaccid sac capable of accommodating huge amounts of food." The University of Pennsylvania researchers concluded that "competitive speed eating is a potentially self-destructive form of behavior."
• You should not try this at home. Competitive eating has a international governing body that believes speed eating is only suitable for those 18 and older and only in a controlled environment with appropriate rules and an emergency medical technician present. Even training is deemed dangerous because of the possibility of esophagus tearing, choking, and water intoxication.
• The all-you-can-eat Stockton contest lasts 10 minutes and features one-pound plates of asparagus. Festival executive director Kate Post said last year's contest was so close that the plates of asparagus were "scientifically" weighed both before and after to determine the winner.
• Want to compete? Too late. The contest is free to all contestants 18 and older, but it's limited to the first contestants who sign up. Sixteen gurgitators are signed up for Saturday's main event. The competition includes rookies in it just for fun (or the free eats) and professional competitors who take it seriously. There is, after all, a $1,500 cash prize at stake.