Our News is Written in Stone™
Thursday, April 03, 2008
Joe LaRue Defends Pancake Title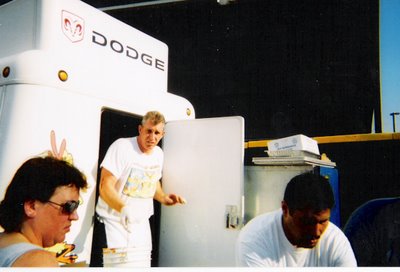 Maple fest great way to greet spring
Related news from the Web
Latest headlines by topic:

Breakfast
Life
Food
Powered by Topix.net
Post Comment
The 38th annual Central New York Maple Festival will run all day Saturday and Sunday in the village as a celebration of spring and sugaring time.

One anticipated highlight of the event is also its opening event: The 12th annual Pancake Eating Contest, which starts at 9 a.m. sharp Saturday in the Marathon HPancakes and fresh maple syrup may be among the best springtime remedies for "cabin fever," and, this weekend in Marathon, there will be no shortage of either.
igh School auditorium.

This 15-minute competition features contestants eating for nonprofit organizations. (Per-pancake pledges were solicited.)
Champion Joe LaRue, 48, now of Sebring, Fla., will be back to defend his title, eating pancakes for Peck Memorial Library

.

After you've checked out the competitive eaters, stop and get some breakfast for yourself. Pancake meals will be served both days from 7 a.m. to 2 p.m. at Marathon Central School and from 9 a.m. to 4 p.m., courtesy of the Masons and Eastern Star.

Once you're fortified with flapjacks, go check out all that the festival has to offer: works by than 80 gallery-quality artists and artisans (9 a.m. to 5 p.m. Saturday, 9 a.m. to 4 p.m. Sunday); horse-drawn wagon rides; syrup demonstrations at the Sugar Shack at Lovell Field; entertainment for all ages, including music from 11 a.m. to 4 p.m. both days; a Civil War encampment on the Village Green; and, of course, lots and lots of food, including maple sundaes.

Obviously, you can drive to Marathon. There will be signs directing you to parking areas. But, if you want to add a little more historic flavor to your trip, go to Cortland and ride the rails back to Marathon. The New York, Susquehanna & Western Railway Corp. will run a daily shuttle service from Cortland to Marathon both days. First departure from Cortland is 10 a.m.; final departure from Marathon is 5 p.m. for the 45-minute trip. (Note: There is no train service this year from Binghamton.)

Cost of a round trip is $8 (ages 3-12, $6).

Details: Call 547-2555, 8 a.m.-5 p.m. weekdays; press "O" for operator.

schedule details

visit www.maplefest.org.

Archives
March 2006 April 2006 May 2006 June 2006 July 2006 August 2006 September 2006 October 2006 November 2006 December 2006 January 2007 February 2007 March 2007 April 2007 May 2007 June 2007 July 2007 August 2007 September 2007 October 2007 November 2007 December 2007 January 2008 February 2008 March 2008 April 2008 May 2008 June 2008 July 2008 August 2008 September 2008 October 2008 November 2008 December 2008 January 2009 February 2009 March 2009 April 2009 May 2009 June 2009 July 2009 August 2009 September 2009 October 2009 November 2009 December 2009 January 2010 February 2010