Who Cut TheCustard..Competitive eaters Invade Treat Shop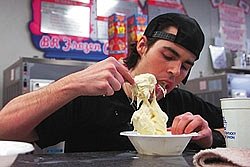 Ian "The Invader '' Hickman
Published: April 20, 2008
It's Saturday afternoon at BR Frozen Custard & Sweets, a small store tucked behind a Woodbridge strip mall. Ian "The Invader" Hickman takes swigs of Powerade, preparing to down as many pounds of frozen vanilla custard as he can in six minutes ("In these contests you sweat, you put your body though a lot of stress," Hickman said. "It's like running a marathon, but different.")
Hickman, 25, of Herndon, is one of four professional eaters about to compete for a grand prize of $250. He's not worried about his competition, nor is he jittery about the build up during the kids and amateur competitions before the main event.
He's worried about farting. With so much dairy, a custard-eating contest could quickly turn into that classic scene from "Blazing Saddles." You know the one—all those cowboys sitting around the campfire, eating beans and, well, you get the idea.
He's had gastrointestinal problems before, eating rice curry in Japan on Nippon Television last December.
"My body just reacts differently to different foods," Hickman said. "But with chili, believe it or not, no problem."
No problem, indeed. Chili is just one of the many eating records Hickman holds. He downed 10 pounds of Wendy's chili in five minutes last February in Canton, Ohio.
Hickman could probably pass for a surfer with his skinny physique, longer-than-regulation black hair, wallet chain, sideways baseball cap and beach-style necklaces. Instead, his sport of choice is competitive eating.
"I watch what I eat, I exercise at Gold's Gym," Hickman said. "Every day is not a six-pound banana split, that's just not healthy."
Hickman wasn't kidding about the gym. He spends about 10 hours a week in the gym, doing cardiovascular exercises and weights. He's lost count of how much money he's made eating but estimates thousands of dollars, televisions and DVDs.
Hickman discovered competitive eating his junior year at the University of Kentucky. He ordered 64 oz. steak at a local restaurant. If he could finish the steak in 45 minutes, it would be free. If not, his mom agreed to cough up the $40 as a birthday gift.
"I didn't think I could eat the steak," Hickman said.
Instead, he set a restaurant record. Thanks to his nerves, he polished it off in 19 minutes.
***
The vanilla BR Frozen Custard they're about to eat is thick, cold, creamy and sweet—and probably difficult to eat quickly. Contestants are given bottles of water to fight brain freeze.
The contest celebrates BR Frozen Custard's two-year anniversary.
"This is the first national custard eating championship," BR Frozen Custard owner Barbara Frank said. "We plan on making it a yearly event."
Frank, 42, owns BR Frozen Custard with her husband Rory Frank, 43.
"We started years ago, we're family ran," Frank said. She sold custard at the Dale City Farmer's Market for many years before opening the Woodbridge store.
Hickman, along with other Association of Independent Competitive Eaters, participates in contests all over the country (and in Japan). Hickman won last year's contest at BR Frozen Custard, which raised $250 for St. Jude Children's Research Hospital. This is the first time AICE is involved in the event.
***
Listening to emcee and AICE chairman Arnie "Chowhound" Chapman praise Hickman (favored to win) and analyze his skill as an eater is like watching an over-energetic sportscaster, announcing eater stats and strategies. It's silly, sure, but then again, it's not much different from watching John Madden analyze an athlete's prowess with a ball.
The big difference is none of the AICE eaters make their living from competitive eating. But Chapman predicts that one day the top eaters might be able to go full-time, especially if they land corporate sponsorships.
Chapman, 47, is semi-retired from professional eating, but still attends and emcees events all over the country and Japan. In real life, Chapman works as a counselor for the New York State Commission for the Blind. He joked that he got into competitive eating as a "clever way to get out of yard work and avoid responsibilities as a father and husband."
(In fairness, his wife Debbie Chapman does a lot of work on the AICE Web site and attends about a third of the contests.)
Chapman said contests are kept under eight minutes and AICE does not recommend special training or preparation—or that its eaters compete in more than 12 competitions a year. In fact, AICE recommends eaters keep active and eat healthy.
He said businesses understand these competitions are viable marketing tools and AICE contests are safe and inexpensive.
"We think it's silly, we think it's funny," Chapman said. "Really, competitive eating is going back to the sixth grade, my favorite time of my life. … We also think competitive eating, in this time of world crisis and slowing economy, we think it's the perfect comic relief."
***
About 40 people are out to watch, answer custard and competitive eating trivia and take home door prizes. A few leave after the kids' contest, many more take off after the amateur division. Some stay to watch Hickman—the only Virginia-native competing at the professional level—and the three other pros.
A small handful of kids try their hand, er, spoon, at eating custard. They get two minutes to eat as much custard as possible. Andrew Collins, 10, of Woodbridge looks to be the clear victor.
"Andrew, you were eating like a monster," his sister, Rachel Collins, 8, said. "I can't feel my tongue, it's frozen."
But, most of Andrew's custard wound up on the table (and quite a bit on his shirt). It wasn't enough. He took third, having eaten .39 pounds. The winner, Christian Salazar-Britton, 9, of Dumfries, ate .44 pounds. His strategy?
"I swallowed it," Christian said.
The amateur contest is more intense. Nine people—teenagers and adults—crowd behind the BR counter eyeing their one-pound bowl of custard. The first to finish three pounds in five minutes wins.
The eaters slow down after the first bowl.
James Besser, a 27-year-old Marine Corps engineer from Woodbridge, won the $50 first place prize by eating three pounds in four minutes.
"I just kept shoveling it in," Besser said.
Rory Frank Jr., whose parents own BR, took second, finishing off the custard in 4:40. He spent the rest of the event outside the store, clutching his stomach in pain.
***
By the time Hickman and the other three professionals step up to the counter and listen to Chapman's long-winded and silly introductions, their three bowls of custard are partially melted.
"What you are going to see today is going to be truly amazing," Chapman tells the remaining crowd. He describes Hickman as "one of the best competitive eaters in the world," and cautions another eater, Elliot "The Savage" Cowley, "You may not eat the bowls."
These guys don't eat. They inhale, vacuum and devour, as Chapman barks the action into a small speaker. About two minutes into the contest Hickman is on his third pound. He's got a bottle of Reese's Peanut Butter Topping by his custard. It's a psychological thing—after a pound or so his mouth is frozen and he will be used to the taste. If he needs, he can top it off with the peanut butter flavor to keep him going strong.
He doesn't need it.
The other eaters alternate standing and crouching. Chris "The American" Schlesinger pauses, says "Oh, my God," burps, and returns to the custard. But Hickman stays low and keeps his back straight.
He's trying to keep his digestive system straight, to avoid trapped air and lost time for burping. Thankfully, he remained flatulence free.
After six long minutes, it's over. Hickman wins, with 5.5 pounds of custard in six minutes. It was close—Cowley finished 5.42 pounds.
"Honestly, it was a lot more difficult than I thought it would be," Hickman said. He's disappointed by his loss of speed when he hit his fourth and fifth bowl. The final bowls hadn't sat out on the counter and were much thicker than the first three.
"I'm eating it like a lollipop," Hickman said.
Hickman's not hungry, but goes with some friends around the corner to Five Guys for a cheeseburger and some Cajun fries. He was planning on returning to BR Custard afterward to try the Thin Mint custard, but that's not exactly what happened while Hickman stood in line at Five Guys.
"It hit me, like I knew it would," Hickman said. "I broke out, in a sweat, headed for the bathroom and the rest of the day was history."
Staff writer Josh Eiserike can be reached at 703-878-8072 or jeiserike@potomacnews.com.
WANT TO TRY ...
Custard?
»BR Frozen Custard & Sweets, 4125 Merchant Plaza, Woodbridge
Call: 703-590-2122
Info: brfudge.com

Association of IndepenCompetitive edent Competitive Eaters
Info: CompetitiveEaters.com